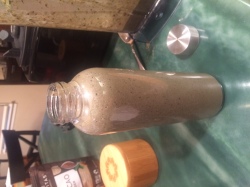 Happy Friday! I hope you had a fabulous week so far.


Today I'll share some facts about one of my favorite fertility smoothies.


Blueberry-Chocolate Smoothie:

This smoothie is loaded with protein (20 grams). Studies have shown that a protein rich diet is necessary for good quality embryos and better egg quality. Blueberries are a great source of fiber, vitamins, antioxidants and said to protect and support uterine tissue. Antioxidants help to get rid of free radical damage in the body. It is said in Chinese medicine that cinnamon and ginger warm up the body (which is a good thing because we like to keep our bodies warm while trying to conceive) and are known for their anti-inflammatory properties. Cinnamon also has been shown to balance out blood sugar. Raw cocoa powder is also known for it's high level of antioxidants and magnesium.

Reach out here for the recipe and/or sign-up for a complementary consultant today! Maybe a health coach is the missing piece in your fertility puzzle :)

Be well,


Visit my site to learn more about me, events I'm hosting and other
fertility tips!